Curbside Compost Collection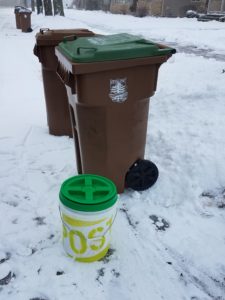 Serving the greater Stevens Point area.
Unsure if that includes you? Email kelly@risingsand.com to find out.
Since June 2018, Rising Sand Organics has been cruising around Stevens Point picking up 5 gallon buckets of food waste that participating households and businesses leave at their curb. We swap out that full bucket for an empty one so that you can throw that sucker right back under your sink and fill it up for the next time we swing by. Each bucket is fitted with a screw-top "gamma" lid that will seal in any odors and allow for easy handling.
All the food waste we collect is composted at Whitefeather Organics in Custer and used for organic vegetable production.
Questions? Email Kelly: kelly@risingsand.com
Stevens Point residents can sign up for weekly or every-other-week pickup.
Restaurants and other businesses sign up for weekly pickup. Businesses that produce more than 50 gallons of food waste weekly should contact Kelly: kelly@risingsand.com
Businesses that produce 50 gallons or less (10 buckets or less) of food waste per week may sign up below:
To unsubscribe from our business service please contact Kelly: kelly@risingsand.com