Curbside Compost Collection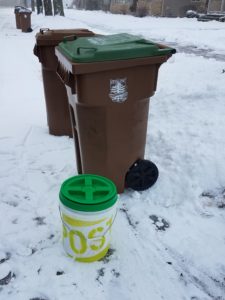 Serving the greater Stevens Point area. Unsure if that includes you? Email kelly@risingsand.com to find out.
This service provides you with a 5-gallon bucket fitted with a screw top lid for easy handling. You can leave it at your curb either every week or every other week and it will be swapped for an empty one on your pick up day.
For rates and other details about service in a commercial kitchen, get in touch with kelly@risingsand.com.
Food waste is composted at Whitefeather Organics in Custer.
You can sign up immediately with Paypal below.
Restaurants and other businesses sign up for weekly pickup. Businesses that produce more than 50 gallons of food waste weekly should contact Kelly: kelly@risingsand.com
Businesses that produce 50 gallons or less (10 buckets or less) of food waste per week may sign up below:
To unsubscribe from our business service please contact Kelly: kelly@risingsand.com