RSO Occasionally Vol. 1.1
A publication from Rising Sand Organics Cooperative Farm*
*occurring, at minimum, occasionally
Volume 1, Issue 1: April 2019
RSO: pronunciation: ˈraɪzoʊ
Noun: spoken short-hand for Rising Sand Organics; like the first syllable and a half of "rhizome"

Contributors in this first issue:
Kelly J Adlington, Lee Bartnik, Fanni Bartnik, Logan Brice, Polly Dalton, Monica Endres, Oren Jakobson, Asher Maliepaard*, Corrina Wilson-Rodriguez, Danny Werachowski
*guest contributor
Table of Contents

Welcome Asher!
This year RSO welcomes its first on-boarding member. For those interested in membership, there is an application process which includes being sponsored by a current RSO member-owner in order to be considered. If that goes through, the applicant participates in one year of employment with the farm to ensure compatible work-relationships and a positive transition to becoming an owner. March 2019 begins Asher's year of employment, and we are so happy to have him around! -Kelly
Asher Maliepaard
This will be my first year working with Rising Sand Organics and living in central Wisconsin, and I'm so happy to be here! Previously, I've lived, worked, and played in various parts of Michigan, Wisconsin, and Minnesota. Farming satiates a combination of my interests in natural resources and sustainable development and desire for physical and intellectual challenges. It feels wonderful to be involved in this work with great people in the heart of a region I've become very fond of. I look forward to learning a bunch this season and developing deeper connections to this place and the people who live here through producing great food with an amazing team.
Maple & Sage Baking Co.
Fanni Bartnik
The idea of Maple and Sage Baking originated from two major needs in my life: the need to be able to stay at home with my child while helping provide for my family, and the need to keep eating delicious bakery in spite of dietary restrictions. After numerous fruitless and unpleasant encounters with Western medicine following my diagnosis of systemic lupus, I started taking my healthcare into my own hands – reading tons of books on nutrition and health and slowly eliminating problematic foods from my diet.
Most were simple to identify and hard to avoid: cane sugar, caffeine, alcohol, dairy, and some gluten sources. This was much to my chagrin since I bake at the Main Grain Bakery and simply love baked goods. Following a brief state of denial, the physical and mental discomfort demanded action and I started baking goodies that I and other people with restrictions could enjoy guilt- and pain-free. After some successful experimentation, I dreamed of an at-home bakery that could meet my schedule needs with a child in my life, and serve people in my community who have lost the tolerance, but not the desire for baked goods.
My baby is due at the end of April, and Maple and Sage Baking is now in its early days of existence, ready to serve all who would love to have a piece of cake, but need to consider the consequences before reaching for the plate.
CSA Member Spotlight
Polly Dalton

In 2018, our CSA program provided fresh veggies to 86 households across the Stevens Point, Amherst, and Appleton areas. For the 2019 season, we have 84 households signed up. Our goal is 100. We plan to continue with the CSA program because it provides us a certain fulfillment as farmers to get to know the families and folks that are supporting us. We always hope they stick with us and learn something about farming across the season and many seasons.

The community supported agriculture model was created with the intention that many community members would share in the risk and reward with the local farmer. The model also forges a stronger connection between what goes into stewarding the land to provide the diversity of food we eat.

It is also our hope that the farm and the food can create the impetus for neighbors getting to know one another a little better. Maybe you run into the same family each week when you pick up your share or find the person who loves green onions to trade them away out of your box. So, in addition to chance meetings and gatherings at the farm, each newsletter we'll share some perspective from a CSA household. This go around, we have Jacob & Misty Prater from Amherst area.
Polly: Why did you decide to join Rising Sand CSA?
The Praters: Two reasons really… 1) I wanted to support a venture that some of my current and former students were taking on (I like to support local business) and 2) I have a lot of summer field work and three little ones so our garden production is down for the next couple years.

What are your favorite vegetables to use?
That's a tough question… We like them all, but for us, it is probably the onions!

What is one thing you've learned or has surprised you as you've gotten to know the farm?
I enjoyed learning about all the side business/spin-offs that each of you were working on.

Are you interested in a CSA for 2019? Sign up today, right here

Workshare Spotlight

Corrina Wilson

A work share is a CSA member who helps out on the farm for a few hours per week in exchange for a CSA box every week. This is a great opportunity for anyone who is curious about what organic vegetable farming is like and allows folks to help and observe the process. Personally, I would likely not be a member of RSO if it wasn't for my work share experience with former Field Notes Farm a few years ago. It's a fine introduction to farming. We asked Justin Seis to reflect on his work share experience with us during our first season (interview below). Luckily he will be returning this coming season, lending his hands to another round of growth.

Corrina: What did you enjoy most about your work share experience last season?

Justin: I'd say there were three key highlights from my time as a work share member last season. The first being getting to do work outside during the summer. Most jobs of any kind are usually indoors and during the warmer months that can be a real bummer so getting the extra time outside, especially with the quiet and calm of being on the farm was a really great way to start my week. Another key highlight for me was the people. Both my fellow work share members and getting to know the member-owners of Rising Sand were fantastic to work with and get to know. The final key takeaway, was getting to see and be a part of harvesting the food that would nourish myself and others throughout the season. There is something special about having that extra level of connection to the food you and other members of the community are consuming. One more thing I'd be remiss to mention is the delicious lunches! That was always a nice treat at the end of my shift.

Corrina: What are you looking forward to this coming season working with us?

Justin: All of the above. Coming back to the farm for a second year, it will be nice to build on everything that was so great about my experience last year. Also, having some experience, I look forward to meeting and helping the new work share members for this season as much as I can!

Wholesale
Danny Werachowski
Getting a CSA box full of fresh fruits, veggies, and other goodies is a great way to connect with the land and community around you, but did you know that RSO also provides local grocers, restaurants, and other businesses with diverse and healthful options straight from our fields? Currently, we provide produce to the Stevens Point Area Co-op, Green Gecko Grocer and Deli, and the Free Market in Appleton. Our herbs and veggies are also used in some of our favorite products at the Main Grain Bakery, Harmony Pizza Cafe, and other dining spots throughout the Fox and Wisconsin River valleys. If you're a grocer, chef, or processor interested in sourcing your ingredients from a local, sustainable, and dependable source, please contact Polly at 262-224-6027 or email polly@risingsand.com for more info. We offer weekly delivery and diverse availability dependent on what's in season.
New Crops
Polly Dalton
We have a pretty refined list of varieties and veggies that we grow each season. In the winter, we still take time to reflect on the cultural practices and production of each item in order to make small adjustments. Sometimes, we learn a variety is just no good. Sometimes, we hear from our members they would like more of it or more variety.

In addition to our own creations (see Seed Saving below), we are trying out a few new varieties and vegetables for you to look forward to…

Prize Choy Pac Choi – This is a new item for the early spring greens mix. Pac Choi presents a smooth mild flavor with a satisfying crunch. It plays well in a crunchy fresh spring salads or stir fry.
Vitamin Green – The green is a cousin to Tat Soi, which many liken to spinach. Vitamin Green is faster and has a tighter growth habit than Tat Soi (which we grow in the fall) and we plan to trial in the mid-summer for a succulent rich green in the summer heat.
Royal Burgundy Bean – We've grown these in the past, and thought we would revisit. Their stunning purple color does fade to green when cooking, but it makes them a lot easier to find for picking! They also have the highest resistance to white mold, which should be helpful if we have another wet summer.
Michal F1 Eggplant – High Mowing was out of our usual Diamond variety, so we decided to try this one in the hopes that we get a real serious crop, all at once. Michal is known for its good flavor and very few seeds.
Mint – We started a small patch last season and plan to expand in hopes of having some in the CSA shares this summer.

Melons! – We are very excited to be adding the juicy, sweet fruits to our mix. Here's the intended line-up:

Blacktail Mountain Watermelon- This one is best for short cool seasons. It was bred in the mountains of Idaho, so it would ripen before the first frost despite occasional night temps of 43 (side note: I worked a trail crew one summer in this part of Idaho, and that is an accurate portrayal of the panhandle summer climate). It produces a good yield and sweetens with storage. The greatest trick for melons, we will come to learn, is the precisely perfect moment to pick them off the vine. Some melons you leave on until they are ripe. Some you pick a bit early, so they don't crack and can ripen in the cooler.
PMR Delicious 51 – This is a very sweet and reliable muskmelon. Growers have commented on how amazingly sweet it is in the far north, so that should lend well for us at the 43 parallel.
Pride of Wisconsin – This is known as the best open-pollinated musk melon (which means we may be able to save seeds and develop our own Pride of Custer!). FedCo notes that it is edible all the way to the rind, and not a great shipper. So, hopefully you all will get some and we won't just eat them up in the field.
Sugar Baby – Short and sweet. This open-pollinated watermelon variety is pretty much a standard for organic production, so we thought we would put it in the mix and see how it fairs.
Tom F1 – A watermelon for Instagram food lovers. This organic hybrid has quintessential striping and bright pink coloring we expect from watermelons. It should produce a high yield and the fruits have an excellent sweet flavor and dense, fine-grained flesh.
Purple Plum Radish – Our radishes are always a stunning show-stopper at the farm market due to polishing effect of our sandy soil. We decided another mild flavor radish with a different color would be a perfect addition to the mix. It also helps that this variety is resistant to pithiness and does not crack easily.

Tomatoes…

Golden Nugget – For 2019, a new yellow-orange cherry more resistant to cracking than last years (also not a hybrid)
Cherry Bomb – Our favorite red cherry tomato is no longer available, so we are happy to hear about this one from FedCo seeds. It should have an "explosive" flavor and be resistant to cracking.

Copia – A classic stunning heirloom gold slicer with orange/red and green/red striping.
Seed Saving
Oren Jakobson

I have been talking about saving seeds for years. I have saved seed from chives plenty of years, as well as seed from buckwheat, calendula, borage, and comfrey, and the bulbs from walking onions. For whatever reason, it took until now to start saving vegetable seed. Starting this spring we have saved Black Cherry, Pink Berkeley, and Red Racer tomato seeds started in the greenhouse. That is, the seeds went into the soil.
From what I have read it is best to let tomato seeds ferment in the juice of their fruit for maybe a couple weeks before cleaning, drying, and storing them. I may have let them ferment until the only thing left was a shell of a tomato, maggot carcasses, and clumps of seed covered in mold residue. As a result, I am not surprised to see that though the Pink Berkeley have almost all germinated, only a few Black Cherry have popped and not a single Red Racer tomato is growing. Good thing we there are hundreds of tomatoes from purchased seeds growing.
Fanni and I also spent an hour or so collecting spinach seed early last summer. We saved and cleaned about a pound of seed that we should have planted last September to take advantage of our not so subtle selection for overwintering, but instead, we will probably plant this month.
The bigger news is that we bought a seed cleaning machine! I flew to DC in January to participate in the National Farmers Union Policy Committee. One of the six members of the committee was a man named Wayne who sells seed in Oklahoma. During a break, he was talking about seed cleaning and I asked him a few questions. A week later we became the proud owners' of an old seed cleaner with twelve different sized screens. We are looking forward to saving more seeds as we go.
Curbside Compost
Kelly J. Adlington

Through my job with Recycling Connections, a nonprofit in Stevens Point, I hear a lot about all aspects of the waste and materials management industry. More and more folks in that industry are talking about the management of wasted food, often referred to as "organics." I am so proud that we have chosen to fill the gap of organics management in Stevens Point. If you didn't know, Rising Sand offers a curbside pick up service of organic waste to Stevens Point residents (and select surrounding areas). This is ideal for those without the means or motivation to have a backyard compost pile.

We started in June of last year with 8 buckets our very first week…we have since grown to more than 65 customers, including 6 business locations.  We have an awesome intern, Susanna, that runs the route with me every week slingin' buckets like nobody's business. She has been a big part of making this successful so far, and I am so grateful for that!  
In May, I'm going to New York City for the 6th Annual Cultivating Community Composting Forum. "Community composting" refers to organics management systems that take place in the same community that the material is collected. When I lived in Amherst at Black Rabbit Farm, with my friend Tommy and his family, he joked that whenever I went to Point I was traveling to "the big city!" In reality, 26,000 is a fine population but it more than pales in comparison to New York…in this case I will indeed be traveling to the big city. I'm looking forward to meeting in-person folks who own or coordinate similar services in Boston, like Cero; Cleveland, like Rust Belt Riders; and New York City, like Community Composting.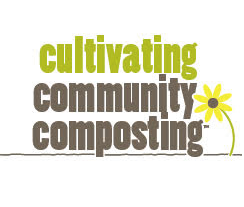 Something in particular I'm looking forward to learning more about is the opinion of compostable and biodegradable items among those who own businesses like ours. At RSO we hold a relatively high standard for what we'll take in our compost outside of food material, so we don't accept most compostable disposable products. Interestingly, being involved in the waste industry from my other work perspective I've learned that this is an unpopular practice. Most people are very eager to have every amenity that we have now but in a "sustainable" form; that means that disposable bags, cups, plates, bowls, and utensils that are "compostable" are a reality. It's seen as innovation, to make something that allows for all the desired conveniences without the same environmental impact. However, we're veering away from that for a few reasons…the most important is that we think it makes for healthier soil down the line to not have this material in compost.
The truth is that the jury may still be out on the technical research. But in the meantime, we might as well do what we can to restore the land's fertility with the best practices possible.
RSO's Art Share
Monica Endres
With the deadline for art share applications having technically passed, we are excited to review our opportunities for creation/ collaboration/ beautification for the upcoming season! I have heard the rumblings of big ideas and project proposals unlike any we've ever had in the program, and it sort of feels like Christmas in Spring. Creativity, in its many forms, is the juicy center of life! We are excited to share the fruits of our labor with others who make and mold this community with their art! If you are interested in submitting a proposal to the art share program, send it to polly@risingsand.com as soon as possible. A proposal should include:
A description of the project idea
Your interest in farming/food/people
How your project will enhance our work as farmers and benefit our farm and CSA
How your project will develop throughout the season
Let the creative juices flow!
Animals
Logan Brice

The spring sun is welcome warmth for us farmers as we prepare to plant into an ever thawing soil. It also brings great uplifting energy to the farm animals that braved this wild winter. The four cattle from Primitive Pastures we grazed at RSO in 2018 left our farm in October, however our three cats and shepherd farm dog overwintered on the property. In fall, they put on plenty of weight to insulate them from the cold. They are now slimming down as they stretch and sprawl out in the radiance of the spring sunshine. They are ramping up their activity as the daylight grows with each passing day. Lotus is chomping at the bit for something to herd besides the cats which is a futile game to pass the time. We are looking to expand the livestock we raise this year to include some pasture pigs as well as cattle. I know I am just as ready as Lotus is to see new animals living on the farm and contributing to the regeneration of the landscape.
Rising Sand Organics Cooperative Farm Annual Report
Supper Club
Danny Werachowski

Some of our members have been busy in the kitchen, the Frame Memorial Presbyterian Church basement kitchen that is. Spearheaded by none other than our very own Lee Bartnik, Supper Club serves monthly, free meals prepared entirely with donated products from local farms and businesses. All the time for logistics, prep, outreach, and advertisement is donated by a group of folks that are hungry to help their community and willing to go the extra mile to make sure the meal is filled with delicious food, intriguing conversation, and a comfortable atmosphere. You can find us on facebook at www.facebook.com/supclubsp. At this time our meals will be on the third Tuesday of every month in the Frame Memorial Church basement from 5:30 – 7:30 PM. Invite your friends and family, stop on by, and enjoy a great meal!
Meristem Mayhem
BY LEE BARTNIK
Check out Lee's blog Meristem Mayhem:
"The stories of Meristem Mayhem are intended for entertainment, to reflect and share farm experiences through the viewpoint of Lee Bartnik (Louie B). Therefore, the views expressed are not representative of Rising Sand Organics as an organization. We sincerely hope you enjoy the mayhem as it unfolds."
Meristem Mayhem: A Trip (Introduction to Season 2)
When we last spoke, it was mid-October and things were all pumpkins and onions; reflections and shortening days. We were enlivened and exhausted; frustrated and fulfilled. Now, the winter has begun to cease, and it's all ahead of us again. The sun is stretching through the waking hours, and it's starting to feel as though we may again come to see the ground. Our fingers itch for the dirt, as our bodies crave the co-motion that has come to define our spring and summer. Seasonal mania is ahead, and everything is right outside the window, waiting to reawaken.
Also waiting to awaken is our child, as my wife is now 33 weeks pregnant. This has been the foremost focus, and the deepest center of my attention and intention through the winter. Bearing witness to Fanni's journey through this transformation has been a blessing and wonder. Day-by-day, she continues her intensive education on her own body and impending birth. She treks fearlessly to work regardless of conditions, practices yoga and maintains a refreshingly pleasant spirit through all the physical and emotional changes she faces. I am in continuous awe at her natural strength and fortitude as her belly grows and the kicks intensify within. We are working with wonderful midwives to prepare for the day when we will usher a new soul into this world. This is what is new, and to a large extent this is all that is new.
But the mayhem does not stop. In early January the Rising Sand crew road tripped to Door County for our first Rising Sand retreat, putting ourselves up in a cabin for three days to hash out reflections from last year and plan intensively for our commitments in the season to come. We have established a series of regular community meals called Supper Club, in which a number of us gather monthly to prepare wonderful spreads for anyone in need of food or community. We share meals often, and our formal and recreational meetings have taken on increasing frequency as the marketing and planning workload has intensified.
After bunkering down for much of the winter, recoiling from the emotional and physical toil of last season, we're emerging again and remembering what all of this means. It is going to be a trying and telling season. We will come to terms with the ongoing realities of farm ownership, and be forced to reconcile whether this is our desired destiny, once the sheen of novelty has dulled. We will engage in the continuous battle of ambition versus energy, hedging bets on the inception of new involvements and projects. We will try our best to maintain decency and respect through failure and disappointment, and continue to explore whether a group can feasibly and positively exist under the structures of true shared ownership.
We will grow hemp, raise chickens and pigs, and grow some of the best vegetables this community has tasted. We will move our operations fully to our own land, and coordinate harvest days of expert efficiency. We will build, create, restore, destroy and burn. We're farmers, goddammit. We will exercise control over our own destinies, to the precise extent that this is possible, and do our best to take the rest in stride. We will piece together our individual natures with the beautiful and terrible forces of nature outside, collaborating on the wild and unexpected. We will raise our very first Rising Sand baby. It will be a trip.
Thanks for reading our first RSO Occasionally.
Sign up for our email newsletter to receive the next occasionally whenever it happens.